Overview
Founded in 1922 and based in New York City, PEN America works to advance literature, to defend free expression and to foster international literary fellowship. Their mission is to unite writers and their allies to celebrate creative expression and defend the liberties that make it possible. Working with Tronvig Group on strategy, GreyBox did a full rebrand of the organization.
Solution
There was a strong internal conflict between PEN America's role as a human rights organization and its role as a literary organization. This was reflected in a bifurcated tagline: Free Expression/Literature. Through the Discovery workshops we codified their core values and unified the organization around a new brand idea and tagline: The Freedom to Write. This synthesized the two aspects of the organization around their human rights advocacy work.
The logo and identity needed to capture and represent the main criteria which best symbolizes PEN America, literature and expression. PEN America is heavily involved in championing for the freedom to write, recognizing the power of the word to transform the world.  From the start, we felt one of the most important aspects the logo and identity should represent was expression. Writers through their writing, express themselves and their views. PEN America through their programs and energies constantly champion for these efforts. The main logo merges together an open book and speech box to reinforce these ideals. This simplistic mark was versatile, identifiable and relatable. The open book captures the essence of literature, the speech box giving the logo a voice, the freedom to express ones thoughts and views.
Taking elements from the construct of the main logo, additional design elements such as the framing brackets, customized quotation marks and the main logo frame paired with bold typography help push the brand forward. The tone of black and white photography captures the powerful expressions of people around the world reading, writing and expressing their ideas, a core representation of the individuals of the PEN community. A core color palette of red, white and black, make a bold impact setting the tone of each piece helping accentuate the serious topics PEN America tackles and their aggressive approach to fighting for these rights throughout the world.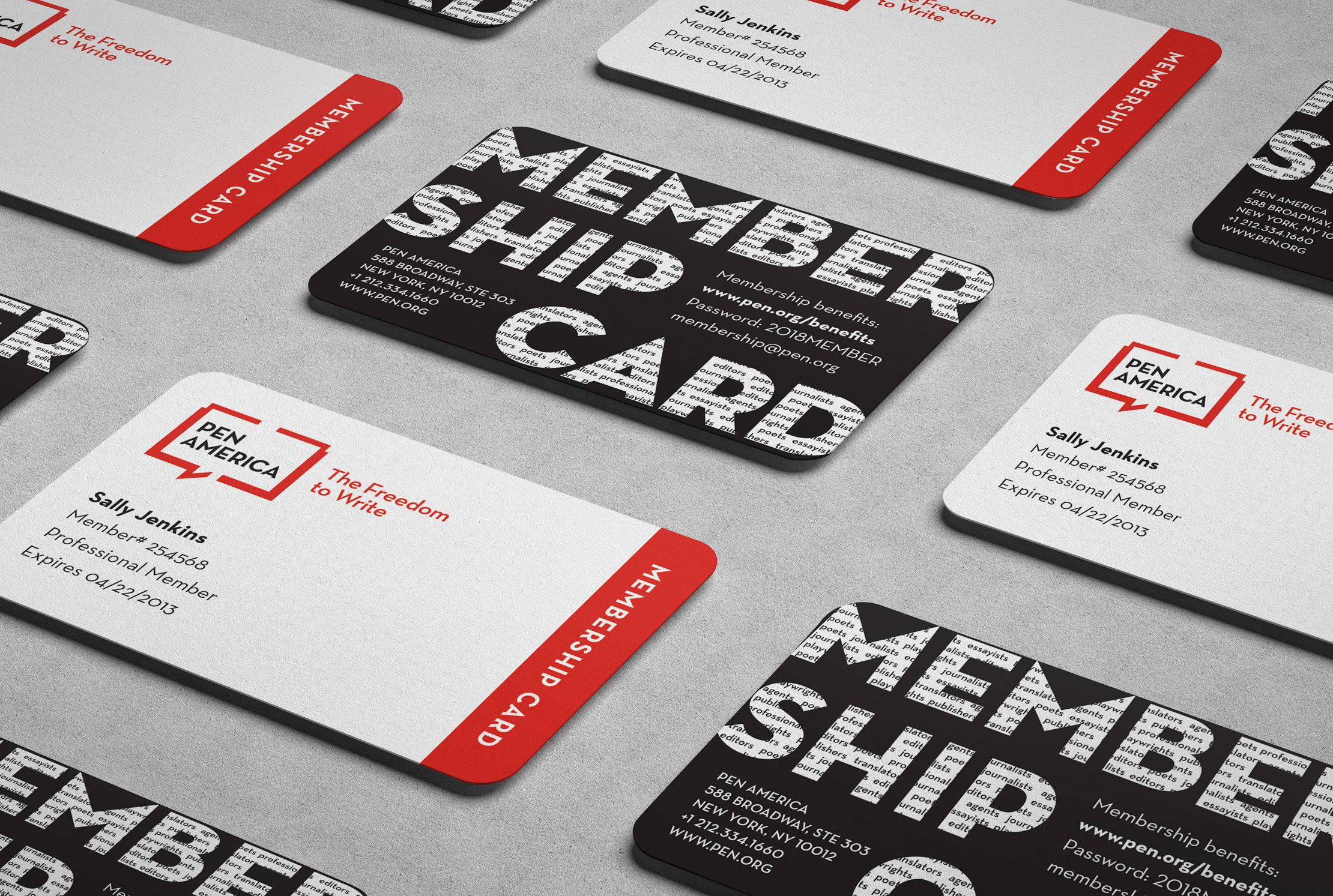 "After Tronvig Group and GreyBox Creative presented the new PEN America brand identity to the full board of directors, it was applauded and unanimously approved. This was something of a miracle"