GreyBox Creative has recently been featured in ongoing coverage of leading US-based branding agencies. The coverage is attributed to Clutch, a ratings and reviews platform for B2B service providers, with a particular focus on branding agencies.
Firms included in Clutch coverage are evaluated on both a quantitative and qualitative scale. Quantitatively, Clutch analysts referred to their long-standing methodology that maps service providers' ability to deliver against their established client base and level of expertise in the branding industry. Qualitatively, Clutch analysts spoke directly with our past and current clients to create reviews for GreyBox Creative, all of which can be found on our profile.
We always knew our client partnerships were awesome, but to have an outside source collect reviews on our behalf has really been a worthwhile experience for us at GreyBox. Here are some examples of what our clients have had to say: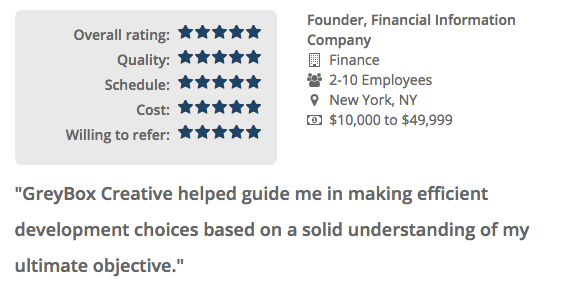 As Clutch's research on top branding agencies continues, GreyBox plans to keep our leading position by delivering even more solid results for our clients. Branding is a competitive industry, and we are excited to be recognized as a quality firm!